Game of Thrones is the most pirated television series of all time.
A dubious honor to be sure, but it speaks to the show's ability to aggregate demand. For context, the most pirated movie of all time is James Cameron's Avatar.
Over its fiery, eight season reign, GoT generated $2.2 B in profit for HBO, was a perennial Emmy's juggernaut, and dominated our cultural conversation. In fact, there's an entire annoyed generation of children named Arya and Khaleesi. All this success is despite a widely panned finale, which I won't discuss (but it was objectively a gilded plate of hot garbage).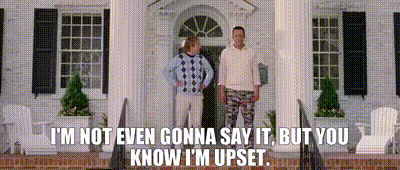 And Game of Thrones is hardly the only example of the premium we place on unique, high-quality content. The Office, Breaking Bad, Seinfeld and Thursday Night Football are also watercooler television that engage us, dominate our culture and provide speaking points for small talk-phobists such as myself.
But what does this have to do with residential real estate, and Opendoor in particular?
Quite a bit, actually. Let's dive in.
What is Opendoor Exclusives?
In September of 2021, a small "start-up within a start-up" quietly launched out of Opendoor, led by the team of Hriday Kemburu, Jay Patel, and Vinay Ramesh. The product was called Opendoor Exclusives, and was activated only in Austin.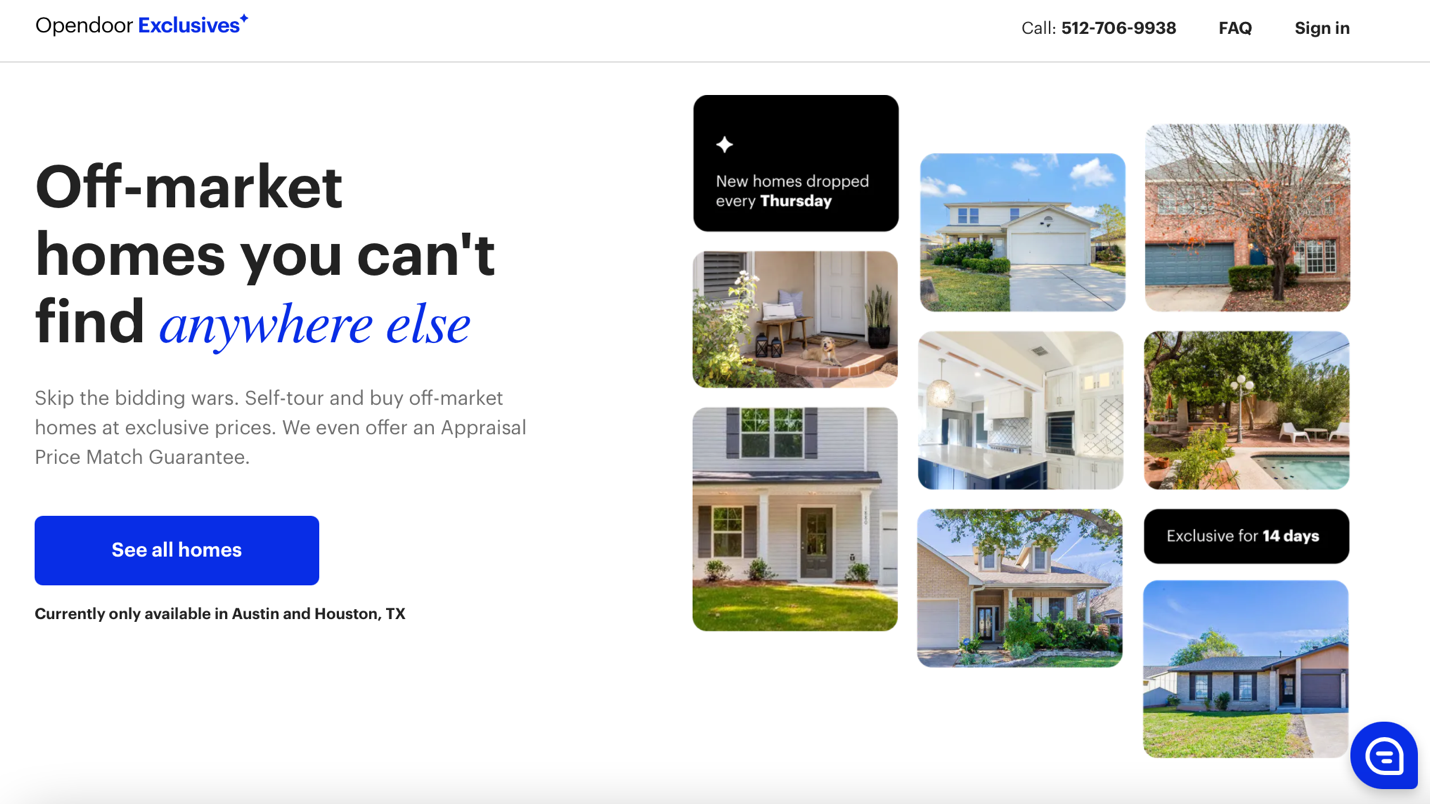 Only two months earlier, the trio's social news app Wildfire was acquired by Opendoor. Kemburu, Patel and Ramesh founded Wildfire while students at Berkeley and the app spread like, well, wildfire. By the time the team joined Opendoor, they had amassed an audience of nearly 1 million users.
At Opendoor, the social news app was sunsetted but the trio was assigned to build Exclusives, which is a marketplace of unique, off-market homes (content). Nine months later I still can't find any press release or analysis of Opendoor Exclusives other than its landing page and home search tool.
That wasn't enough for me. So I've been researching Exclusives for months and tracking its progress with the Datadoor engine. Today, I feel educated enough to share my learnings with you.
Let's begin with the basics. Opendoor Exclusives is a buy-side product that looks very different from the normal homebuying experience. For those of you who have attempted to purchase a home over the past year, you might appreciate that someone is rebuilding this process (my wife and I tried in Nashville and quit on the first day).
Exclusives are Opendoor homes listed exclusively to Opendoor consumers two weeks before listing to the public. Users simply submit their email address, and every Thursday Opendoor "drops" new Exclusives inventory via email. The product was launched in Austin, and today is also in Houston.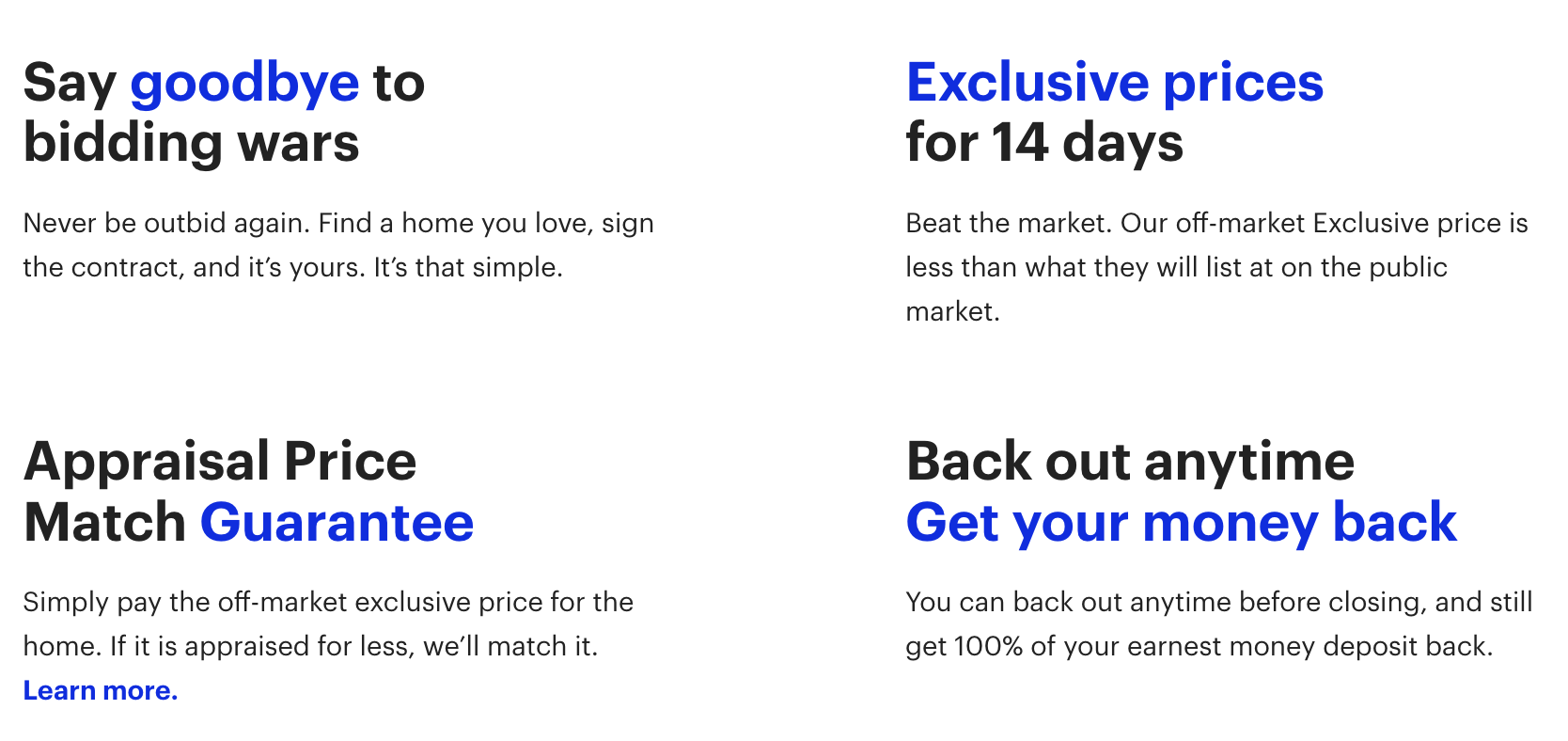 Using the Opendoor app consumers can self-tour the home on-demand. If they love the home, they can buy it outright. No all-cash offers needed, no haggling – this is "buy it now" not "best offer." Gone are the days of losing your dream home to the California remote-work couple bidding $100k over asking.
The Exclusives price is also lower than the home will be listed at on the public market (roughly 2% less today, more on this later), which means a better deal for the consumer and higher conversion.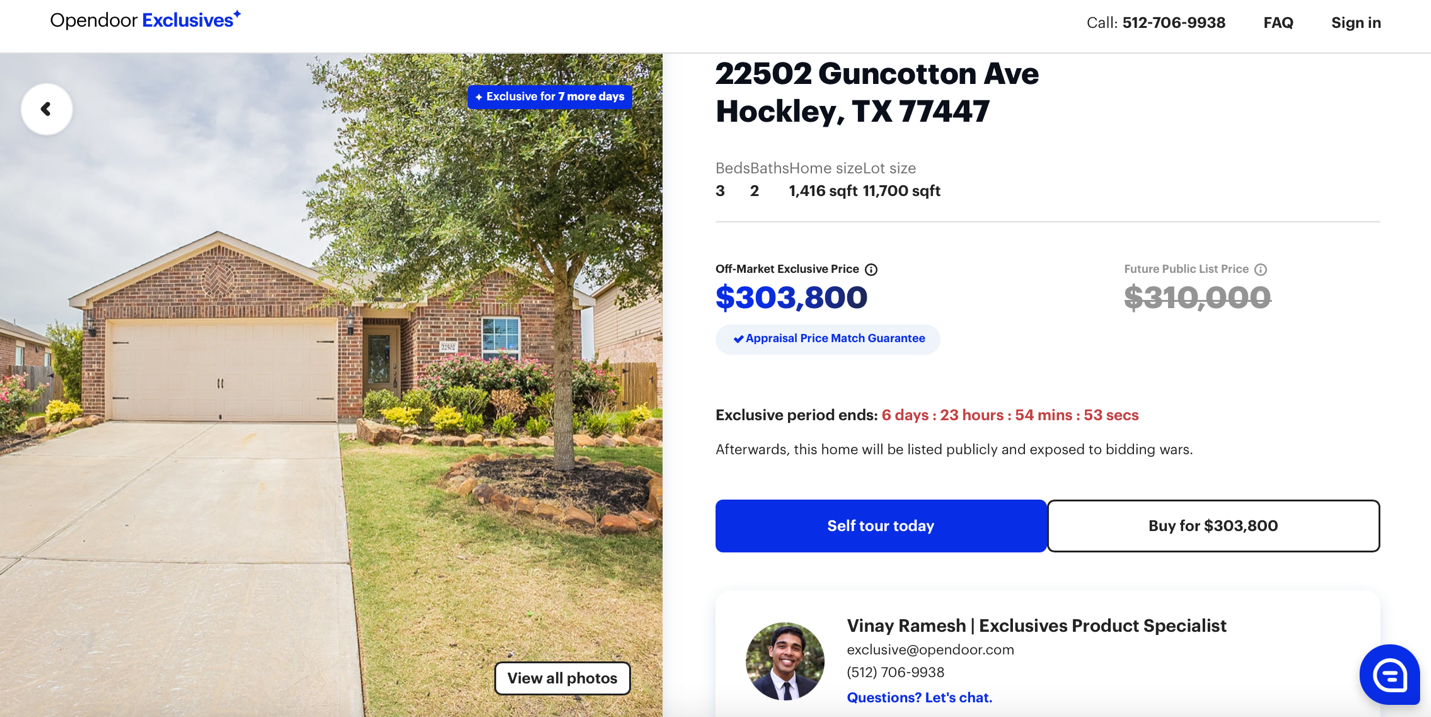 I've already asked Sebastian to incorporate this blue gradient price aesthetic somehow in our dashboard. 👏 Exclusives developer.
But the product doesn't stop there. The Exclusives team is hard at work reimagining the buying experience for homebuyers. For example, on June 16th the Exclusives site released impressive new features to zero fanfare or PR.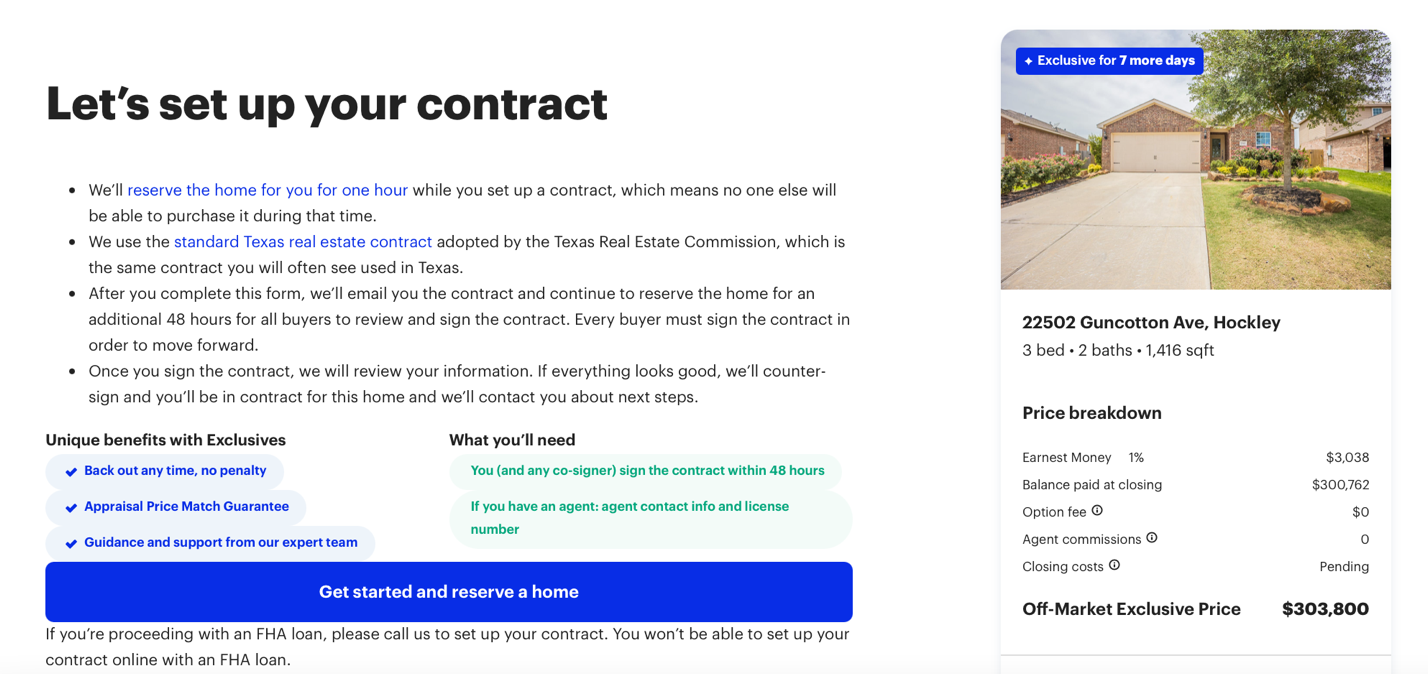 See above. Exclusives now boasts a checkout feature that more closely resembles buying a t-shirt on Amazon than buying a home.
If you are interested in an Exclusives listing you can reserve the home for one hour while you fill out the contract (I accidentally reserved the above home for one hour while writing this article, apologies). And once the contract is complete that home is reserved for 48 hours. Meanwhile you can back out of the contract any time, no penalty. Buyers can use their choice lender and select a convenient closing date.
Once the home is purchased, Exclusives also has an appraisal-match guarantee. This means that if you use an independent licensed appraiser and their appraised value is lower than Opendoor's price, Opendoor will lower the price to match the appraised value (so the homebuyer won't have to make up the difference in cash).
For those who have financed a home and suffered through the murkiness of an appraisal, this is a huge value-add for the homebuyer.
So to summarize the Opendoor Exclusives consumer advantages:
Preferred Pricing: Homes can be bought for lower than will be listed (roughly 2% less today).
Real Estate meets E-Commerce: Seamless checkout experience. Reserve the home of your dreams with the click of a button.
Peace of Mind: No haggling for price, no best offer, and appraisal match guarantee.
Flexible Terms: Buyers can back out anytime, no penalties. Select your closing date and choose your own lender. No all-cash offer? No problem.
The above consumer advantages are easily derived if you care and know where to look. But what are the advantages to Opendoor?
Here are the three reasons Opendoor Exclusives is – in my opinion – Opendoor's most important strategic intervention today.
Opendoor Exclusives Improves Unit Economics
In a traditional home sale, the homeseller pays the buyer's agent and their own agent roughly 3% each, for a total commission of 6%.
Similarly, when Opendoor sells to a homebuyer, they pay 2.5 - 3% to the buyer's real estate agent. In Q1 2022, Opendoor spent 2.6% of revenue, or $136 million on "selling costs," which is primarily agent commissions. This is material for a company who lives and dies on a razor thin margin. In fact, selling costs are the largest individual drag on Opendoor's contribution profit margin each and every quarter (Remember that contribution profit is simply gross profit minus selling and holding costs).The commission is 50 – 75% of Opendoor's contribution profit margin targets of 4 – 6%.
But because Exclusives are off-market listings, there's no real estate agent involved. This means the 2.5 – 3% commission is not subtracted from the sale.
There are a few takeaways from this feature. One, with Exclusives Opendoor can run a profitable business at incrementally lower gross margins. This is critical for a company sailing into volatile and unpredictable macro waters. But two – and what I believe is the superlative business feature – Opendoor can sell homes to consumers for lower prices and still make more profit.
Opendoor sold 12,669 homes in Q1 and earned net income of $28 million. If just 25% of Opendoor's inventory had been sold via Exclusives, the company would have posted net income of $63.6 million, 127% higher. Exclusives is not just a world-class value consumer product, it allows Opendoor to remain more profitable at even lower margins.  
We are launching a visualization tool to track Opendoor Exclusives progress in the Datadoor Foundry (institutional) and Datadoor Atoms (retail) dashboards in July, and will continue to add markets as they are launched. To see more granular Exclusives data and analysis, click here.

While Exclusives can slash selling costs, they also have the opportunity to minimize holding costs. Selling costs are dominated by the agent commission, and range from 2.4 - 2.6% of revenue historically. But the holding costs, which represent costs of managing the inventory, property tax, HOA, homeowners insurance, etc - this cost ranges from 0.7 - 0.9% of revenue historically. As you can imagine, the longer homes are held (holding time), the higher these holding costs are. 
With Exclusives, the goal is to go from listed to pending sale within 14 days. This is dramatic inventory turnover improvement from historical ranges (90 - 120 day holding times), which means holding costs are minimized and a superior inventory liquidity profile for Opendoor.
The whitespace opportunity is for the gross profit of homes sold via Exclusives to be nearly equivalent to contribution profit (minimal selling or holding costs). Today it appears Exclusives homes are listed for 2% lower than what will be listed on the MLS, so some of these savings are being spent to gain marketshare and improve conversion. That said, Opendoor's 2022 inventory on average sells for 100 bps lower than listed price, so Exclusives' no-haggle price at 2% lower than intended listed price functionally costs the company only 100 bps today.
Opendoor Exclusives Can Become an Ancillary, Capital-Light Marketplace
It's hard not to look ahead to what Exclusives could become. While today it's an exceptional consumer experience redefining the homebuyer process, tomorrow I believe it can become a capital-light 3P marketplace.
This all follows the inherent unit economics of an Exclusives sale. If there's no agent commission, there's again opportunity to design a product that is both less expensive to consumers and more profitable for Opendoor.
Here's how I would build it.
Opendoor can create a marketplace of exclusive 3P inventory not found anywhere else. Homesellers can list their home on the marketplace, paying Opendoor 1-2% for the service. Opendoor can manage the marketing, sales, and connect those homesellers with its vast network of homebuyers, REITs, and institutions.
Because Opendoor doesn't have to purchase the home themselves, this marketplace offers remarkably high margin, capital-light revenue. Meanwhile homesellers don't have to pay 6% in commissions. 
Everyone wins.
But building a flourishing marketplace is no easy task. Marketplaces require network effects, and there's the cold start problem to overcome. How do you reach a sufficient critical mass of buyers and sellers where this process works more times than not? How big must Opendoor's Exclusives marketplace become for this model to flourish?
Truthfully, I think these are the wrong questions to ask. Rather than asking how many, we should be asking what.
Opendoor Exclusives: Game of Homes
If we can take one thing away from GoT, it's not that chaos is a ladder, or to never trust a Targaryan. Rather, we should focus on the successful features of the show itself.
GoT teaches us an important lesson about aggregating unique supply and the demand that follows, a twist on one of my favorite expressions:
When it comes to content, quantity is king, but quality is god.
As a content consumer, I am less likely to subscribe to a service with one million hours of uninspired shows than I am to a service with just a dozen hours of must-watch TV. This is biological – we form preferences for the superlative. This is why we have a favorite food, why we marry one person or have a best friend. 
Homes are no different.
We should not be thinking about Opendoor needing to exceed a certain critical mass of inventory for Exclusives to work. Rather, Exclusives just needs to carry the right kind of homes.
The entire Exclusives process requires consumers to break behavior – to find homes on Opendoor's app rather than working with a realtor to curate a portfolio of homes to tour.
To break this behavior, Opendoor must truly aggregate unique content. Not the most homes, or the most expensive ones, but the best ones. In every neighborhood in the U.S. there is one home that stands alone as the best on the block. The head-turner, the "wow," the envy of the book club. Whether it's curb appeal, size, or some combination thereof, this is the house every prospective homebuyer wants to at least tour.
If Opendoor can identify these homes and add them to its Exclusives inventory, it has a real shot at breaking antiquated, offline consumer behavior. And Opendoor has an entire team dedicated to identifying these "x factor" features to automate identification of the best homes on a given street.
I imagine a homebuyer touring an MLS-listed home next door to an Exclusives listing, seeing the Opendoor Exclusives for-sale sign and asking their realtor to visit that home next. The realtor says "Uh, actually I can't show you that home (remember, no commission)." "Why not?" (because I won't be paid for it).
Unsatisfied, that consumer will download the Opendoor app, find the home on the Exclusives tab, tour the home themselves, and thus the behavior has broken.
That consumer does not care if Opendoor also owns the next five homes on the street, they just want to see the premium content. This is how Opendoor can generate more profitable transactions, create a capital light 3P marketplace, and win.
This is the Game of Homes.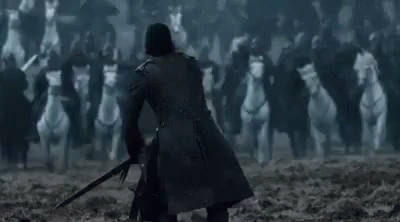 Tyler
Feel free to check out Opendoor's Exclusives site here.